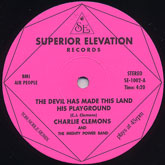 CHARLIE CLEMONS

The Devil has Made This Land His Playground (Tom Noble remix)


SUPERIOR ELEVATION RECORDS

12" : £ 13.99

add to wishlist

Out of stock
1980 - Inglewood, CA: Charlie's group of immediate music buddies included the members of the Watts 103rd St Rhythm Band, some of whom appear on these recordings. In 1980 he decided to enlist these pals, and head out to Warner Bros studios to cut a few songs to have made into singles. Not really hoping to get a record deal, as much as to make a statement about his own spiritual and political agendas. To get this message across best he decided to make the songs in the disco style of that era, not foreseeing that this sound was about to crash and burn.

Not getting the hit record he wanted, luckily, Charlie still held onto the 2" tape masters he made for these cuts, which have now been picked up by Tom Noble for a re-edit and reissue on his Superior Elevation label. Noble's idea was to take an indie recording made in a world far from the NYC disco inferno, and give it the full on Tom Moulton era disco extensions, as well as a 70s Crown Heights Affair angel dust-laced mix that the NYC indie labels like Salsoul, Prelude and De-lite would have done. Finding the team and proper studio took about one year. Finally, the mixing skills of stalwart Scott Stallone at Found Sound studios in Philly proved to be a great match for this project, and what we came up with is pure disco fire! Two slamming sides consisting of crushing drums, phaser bathed strings, space echoed (and previously muted) vocals. Not leaving out DJ friendly rhythm edits. No new instrumentation has been added, simply a late 70s disco face-lift for two previous songs which had mad potential, but weren't fully realized.
| | Tracks | | Play Count |
| --- | --- | --- | --- |
| | The Devil has Made This Land His Playground | | 234 |
| | God Is Fire | | 100 |
Customers who bought this product also bought