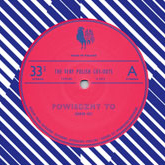 ZAMBON & KACPER KAPSA

Powiedzmy to / Ucze Sie ZYC (Very Polish Cut-Outs)


THE VERY POLISH CUT-OUTS

7" : £ 8.99

add to wishlist

Out of stock
A mysterious little 7" release from Poland - as featured in TODD TERJE'S end of year chart, and thus the object of much speculation and interest ! Launched in 2010 by two music nerds, The Very Polish Cut-Outs quickly became one of the most important sources of fresh musical discoveries. Focused on renewing interest in usually forgotten and obscure music from Poland's communist past, TVPC brings disco, funk, soul, electronic and psychedelic rock grooves made years ago in Poland, back to the modern dancefloor. Label honcho's Zambon & Pnk.Discorporation expertly curated the series of tastefully done edits, reworks & mixtapes. Now, after a long list of digital-only freebies, TVPC guys are back in town with their first physical release. This beatufiul piece of wax contains the two most sought after reworks from the camp. On the A side we have an amazing edit of "Powiedzmy To", originally recorded by famous Polish psychedelic bluesy-rockers. It comes from their lesser known LP, released in 1972 on state owned label. This beautiful ballad, filled with sexual tension between two lovers, is transformed here into a late night classic by Zambon. He beefed the track with an extra drumkit, subtle synths & dub effects. The result is a truly Balearic gem straight from Eastern Europe. The Flipside contains already famous edit of "Ucz? Si? ?y?", one of the lesser known songs done by a band, who were the Polish answer to The Beatles. Pnk.Discorporation mixes hooks, riffs and verses from the original song with an infectious disco rhythm. Filled with youthful energy, this one works really well in peaktime sets. Also it's one of Todd Terje's favourites, who even included the track in his 2011 recap. Both tracks were carefully mastered and loudly pressed to maximize your pleasure of discovering forgotten gems from Poland's rich musical past. This little 7inch comes in a lush sleeve, designed by one of the most talented young Polish designers & is limited to 150 copies What's not to love? Supported by: Todd Terje, Soft Rocks, Rune Lindbaek, Lovefingers & Eddie C.
| | Tracks | | Play Count |
| --- | --- | --- | --- |
| | Powiedzmy To (Zambon Edit) | | 1847 |
| | Ucze Sie ZYC (Kacper Kapsa Edit) | | 1469 |
Customers who bought this product also bought