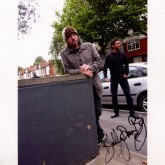 BADLY DRAWN BOY

Too Many Miracles (Signed Print)


ONE LAST FRUIT

7" Art Print : £ 5.99 Sale: £ 1.99

add to wishlist Buy
"Too Many Miracles" is the first single from the new Badly Drawn Boy album, "It's What I'm Thinking Part One: Photographing Snowflakes". The album is released on October 4th, but the week before sees a very special limited edition single release. "Too Many Miracles" is released as a limited edition run of 500 7" sized signed prints, each with a unique photo of Damon, taken reportage style on a rainy day in August 2010, spent wandering round near where he lives in South Manchester. Then the back of the print, where the information is, will have 2 different back covers. It's effectively a highly collectable, marathon 500 formats! Collect them all! On the back of each print is information on a website to go to to download the new single, plus a bonus track exclusive to this release which is a 2010 re-recording of "Shake The Rollercoaster" which originally appeared on the legendary EP1 all those years ago. The new version was recorded during the sessions for the new album.
Customers who bought this product also bought