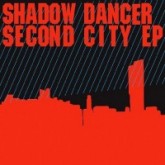 SHADOW DANCER

Second City EP


BOYS NOIZE RECORDS

12" : £ 6.98 Sale: £ 4.99

add to wishlist

Out of stock
Shadow Dancer are back with their sixth release for Boysnoize Records. Paul and Al Farrier could be considered BNR veterans. With their consistently quality tracks and electrifying live and DJ performances they have established themselves as one of top electronic artists around.

The new EP is filled with futuristic deep, techno and classic electro sounds and the good stuff you need to get down on the floor. "Second City" and "Jamma" show their pure Manchester warehouse style, "Mashine Code" goes totally old-nu-school Doppeleffekt-ish, and 'Voice Tracer' brings to mind thoughts of Raster Noton.
| | Tracks | | Play Count |
| --- | --- | --- | --- |
| | Second City | | 78 |
| | Machine Code | | 48 |
| | Jamma | | 30 |
| | Voice Tracer | | 17 |
Customers who bought this product also bought