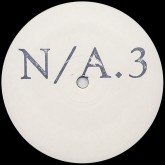 MAYA JANE COLES, GEORGE LEVINGS & ALEX JONES

Untitled / Juxtaposes (N/A.3)


N/A.3

12" : £ 7.99

add to wishlist

Out of stock
A new project emerges harnessing the collective powers of a trio of artists who are riding high at the moment on a collective base of success and pure raw talent - Maya Jane Coles, George Levings (Commix) and Alex Jones (Hypercolour, Playhouse and many others..).

As you'd expect from such a high calibre project the music is nothing short of superb - the a side is a glorious nod to the classic tech house sound that emerged in the 90s - an exciting and vibrant time for house music in general, this untitled gem bumps along on an infectious groove with an underlying griminess keeping the vibe grinding along in all the right places.

The flip side juxtaposes this rawness with a beautiful melancholic and melodically flecked early hours ride. A real mood piece with a definite sense of warmth to bliss out the dancefloor.
| | Tracks | | Play Count |
| --- | --- | --- | --- |
| | Untitled | | 589 |
| | Juxtaposes (N/A.3) | | 364 |
Customers who bought this product also bought