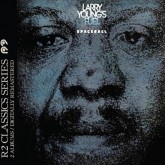 LARRY YOUNG'S FUEL

Larry Young's Fuel / Spaceball 2CD


R2 RECORDS

CD : £ 14.99 Sale: £ 10.00

add to wishlist Buy
This new series is focused on re-issuing classic and hard to find albums from the funk, soul & jazz vaults. Two albums from one artist per release. Digitally re-mastered from the original tapes. These albums aren't just music – they're our heritage. This is the third release in the series. Larry Young was part of the earliest fusion experiments in the late 60's/early 70's, playing on Miles Davis' "Bitches Brew", recording with Jimi Hendrix and being part of Tony Williams' groundbreaking "Lifetime" project. By 1975 Young was signed to Arista and ready to fire up a full on 70's style jazz-fusion assault with his group Fuel. The first, "Larry Young's Fuel" is one of THE essential electric jazz sets of the 70s – and features the classic break cut "Turn Out the Lights" – plus other great tracks that include "Floating", "Fuel for the Fire", "I Ching", "H+J=B (Hustle + Jam = Bread)" and "New York Electric Street Music". The follow up album "Spaceball" in 1976 takes the fusion of funk, rock, soul, and jazz to new heights. The sessions found Young behind the boards as producer and behind the keyboards as a player, utilizing everything from a Mini Moog to a Hammond B3, a Fender Rhodes to a traditional acoustic piano. The resulting project is thoroughly funky and often called the absolute best of his post-Blue Note recordings. Young was only 38 when, in 1978, he checked into hospital suffering from stomach pains, and died from untreated pneumonia. Both albums became highly collectable "rare grooves" among the UK funk, soul and jazz fans. This package brings together for the first time his seminal solo work. Both albums have been digitally re-mastered from the original tapes.
| | Tracks | | Play Count |
| --- | --- | --- | --- |
| | Fuel For The Fire | | 59 |
| | I Ching (Book Of Changes) | | n/a |
| | Turn Off The Lights | | 37 |
| | Floating / USAR10401141 | | n/a |
| | H + J = B (Hustle + Jam = Bread) | | 29 |
| | People Do Be Funny | | n/a |
| | New York Electric Street Music | | 17 |
| | Moonwalk | | n/a |
| | Startripper | | 10 |
| | Sticky Wicket | | n/a |
| | Flytime | | 12 |
| | Spaceball | | n/a |
| | Message From Mars | | 10 |
| | I'm Aware Of You | | n/a |
Customers who bought this product also bought