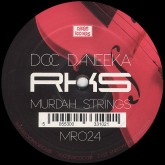 DOC DANEEKA

Murdah Strings EP (Funkystepz Remix )


ROSKA KICKS & SNARES

12" : £ 6.98 Sale: £ 4.99

add to wishlist

Out of stock
Fresh from his epic long player collaboration with Benjamin Damage, Doc Daneeka rolls in with two tough and red-blooded rhythms for Roska Kicks & Snares. This is the Doc back to his rugged and insistent best, with the emphasis on heavy bass and tribal percussion intertwining together in raw harmony.

Peppered with soundbwoy samples, both cuts appeal to those wanting something a little tougher in their musical diet and is a welcome forward-sounding move by the versatile and talented producer.

On remix duty the non-stop production trio and huge UK Funky talents Funkystepz give a more suppressed yet enchanting re-imagination to Daneeka's mighty approach. A bed of resting synths bubble under and allow the bass to become the focal point with a masterful rearrangement proving Funkystepz' firm status as top dogs.

Yet again this maintains the Kicks & Snares manifesto of making even the hardest nut move on the floor.
| | Tracks | | Play Count |
| --- | --- | --- | --- |
| | Murdah Strings | | 110 |
| | Babylon's Burning | | 56 |
| | Murdah Strings (Funkystepz Remix) | | 48 |