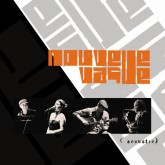 NOUVELLE VAGUE

(Acoustic) CD


NEW SOUND DIMENSIONS

CD : £ 12.98 Sale: £ 7.99

add to wishlist

Out of stock
Nouvelle Vague Live in Barreiro at the Auditório Municipal Augusto Cabrita, Portugal (05th of february 2009) - strictly acoustic versions of 18 original songs by The Cure, Joy Division, Buzzcocks, Blondie, The Clash, New Order, Yazoo, Depeche Mode, Eurythmics, and many more.

There's not much to say about Nouvelle Vague, they had a huge success after the release of their first album in 2004 and become one of the most important and famous bands covering 80's pop/indie/wave hits. After the fantastic reaction to "Aula Magna" live show and CD/DVD release the band decided to make an Acoustic Tour with shows on small theatres to give audience a more intimate atmosphere and again the final result was a big surprise. These release it's just a proof of that. Good sound quality and an interesting new point of view on their original covers. After these Nouvelle Vague performed more Acoustic shows through the world. Initially released with two different sold out releases (Silk Paper print and Cardboard box) and due to fans big demand the label is releasing a Jewel Case version also with limited press.
| | Tracks | | Play Count |
| --- | --- | --- | --- |
| | The Killing Moon | | 41 |
| | A Forest | | 22 |
| | Ever Fallen In Love | | 12 |
| | Don't Go | | 5 |
| | Blue Monday | | 4 |
| | Human Fly | | 0 |
| | Guns Of Brixton | | 2 |
| | Too Drunk To F*ck | | 3 |
| | God Save The Queen | | 0 |
| | Heart Of Glass | | 1 |
| | Sweet Dreams | | 8 |
| | Dance With Me | | 2 |
| | In A Manner Of Speaking | | 0 |
| | Love Will Tear Us Apart | | 4 |
| | Blister In the Sun | | 2 |
| | This Is Not A Love Song | | 1 |
| | Just Can't Get Enough | | 2 |
| | Relax | | 7 |