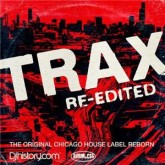 VARIOUS ARTISTS

Trax Re-Edited CD


HARMLESS

CD : £ 9.98

add to wishlist

Out of stock
Welcome to one of the most anticipated releases of the New Year — "Trax Re-Edited" which was done in conjunction with the DJ History forum and where we allowed some 21 Re-Edit experts to run wild with the Trax catalogue and put their particular visions to work. We're happy to say that the results have been spectacular!

2010 marked the 25th anniversary of one of the most significant labels in Dance Music history — Trax Records from Chicago — the label behind the birth of Chicago House Music from the mid 1980s onwards. Since the label has never had any significant remix or re-edit projects through the course of its life we thought we'd do one! And who better to oversee the project then the worlds most influential and significant DJ Forum — DJ History. Trax Re-Edited is a compilation of 21 of Trax records most in-demand tracks which have received significant re-edits from the contributors to DJ History which include some of the most gifted Re-Edit experts in the world. The final track-listing has been selected by Bill Brewster and Frank Broughton (also co-authors of "Last Night A DJ Saved My Life" and "The Record Players") and will be released to celebrate the labels 25 years of influence upon the Dance Music world.

The level and quality of the entries has been phenomenal with lots of well-known names from the DJ History forum all taking part including Disco Bloodbath, Greg Wilson, Leo Zero, Neville Watson, Ray Mang and many other names from the mysterious underground of Re-Edit culture.